– June 4, 2009
A once-in-a-lifetime concert:
Rockin' CHA Memorial Day brings back dozens of long-departed Hill musicians
by Len Lear
American novelist Thomas Wolfe wrote famously that "You can't go home again," and Bruce Springsteen sang that the "Glory Days" of one's teenage years simply cannot be recaptured. On the other hand, in the iconic movie Field of Dreams, actor James Earl Jones insisted to Kevin Costner that "if you build it, they will come."
Fortunately for the hundreds of music lovers who rocked their brains out over the Memorial Day weekend at Chestnut Hill Academy's Conkey Hall, Bill "Rug" Hall listened to his Field of Dreams muse rather than to the naysayers who insist that you have to "grow up" and forget about reliving those glory days of old.
"I had been fantasizing about this for a year, and the amazing thing about it is that the actual event exceeded my expectations," said Hall, 57, who graduated from CHA 40 years ago, of the event that brought together a virtual platoon of 50- and 60-somethings back to their Chestnut Hill roots to prove that "rock 'n' roll will never die."
During the Memorial Day weekend, thinning-haired rockers, many of whom are medical doctors and other suit-wearing professionals, came back to the Hill from all over the country to let it all hang out. As many as 250 friends, family members and music nuts danced, sang and gyrated along with the classic rock songs and anthems from the Rolling Stones, the Beatles, Cream, Jimi Hendrix, the Allman Brothers, the Byrds, the Kinks and other bold-face names from the '60s, as performed by one former rock band after another, about two dozen rockers in all. From the crowd reaction, you'd have thought Mick Jagger and his mates had come to Conkey Hall.
"What was really so amazing," said Hall, "is that for most of the guys, this was the first time they had even rehearsed after not being together for decades. There was just one day of rehearsal, but from the great sounds that came out, you'd think the guys had been playing together all those years since high school." Apparently, every person present at this unique event echoed Hall's sentiments.
"This is the most fun I have had in many, many years," wrote Susan Welsh Darlington, of Glenside, in an email to "Ruggie" Hall. "You threw a perfect party. I never wanted it to end. The food and bar was great, and I ate plenty. The music was unbelievable. To see you so happy up on stage made me cry more than once. It just couldn't have been better … To see so many old friends was awesome. You're a special guy. You rock, Ruggie!"
Terry Klinefelter, of Conshohocken, a classically trained musician whose husband, Paul, a double bass player for the Harrisburg Symphony Orchestra who also played rock 'n' roll at Conkey Hall, wrote: "OK, OK, I'll admit, I was TOLERATING all of this, resigning myself to being a rock-n-roll widow for the past month or so, and thinking OK, I'll go to Paulie's little band reunion and be supportive and clap, ha ha, yadda yadda."
"But, WOW, I was completely blown away by Sunday night. Couldn't stop smiling the whole time. You guys all sounded AMAZING, every one of you. You definitely stuck to your guns and weeded out the pansies. And Ruggie, damn, what a first class P.A. system and great people, great food and booze! I didn't have the pleasure of knowing Paul or any of you guys back in those CHA days, and I was worried that maybe I wouldn't experience the event the way the rest of the audience did, but I was wrong! You guys just sent out such a balls-to-the-wall vibe of transcendent joy … Thanks for that priceless window into a magical time."
The impetus for this head-bangin', foot-stompin' event came from Hall, with a major assist from Dr. Carl "Nurd" Norris, who is now a surgeon in Boston. Hall, who attended CHA from grades 6 through 12, started taking clarinet lessons in the third grade and played in the CHA band, but in 1966 he put together a rock group, Emlen & Company.
The five-man band played together for two years "just for fun." Then Hall put together another band, Section V, which played together for one year until the members went off to college. After college, though, several of the old band mates got together in Chestnut Hill to form Sunshine Express for one year and then Hot Codlins (the name comes from a Mother Goose rhyme) for five years. They actually got paid (not much) but had tons of fun rockin' for private parties at CHA, hockey benefits, post-prom parties, informal weddings, etc.
"We actually got to be pretty good," said Hall. But it's about as hard to make a real living as a local rock 'n' roller as it is to find a hippopotamus strolling down Bethlehem Pike. That fact as well as professional careers, families, mortgages and children put an end to the "Glory Days." Hall, who has no wife or kids, became a realtor for Baxter & Drinker in Chestnut Hill before moving on to Nancy Keeley Realtor in Flourtown. When she sold the business to Bob Elfant, he backed out. Now that the reunion is over, he says, "Well, it's almost time to get back to work."
But 25 years after his last band broke up, Hall, who now lives in Gwynedd Valley, read an article in the Chestnut Hill Local in August, 2002, by local historian Tom Keels about "The short but merry life of Orange Ell," a place on the 8400 block of Germantown Avenue where teenage musicians used to jam.
"That article put the idea in my head," said Hall. "I still had many old cassettes and reel-to-reels of the music we played, so I started putting them on CDs and sending them out to the old guys." The idea of having a massive musical reunion was percolating in Hall's mind, and it finally came to a boil in December of 2007.
At this point, he began contacting the old musicians from the '60s in earnest – his old band members as well as all other Chestnut Hill area rock bands he could recall – trying to come up with a date and location when they could all get together for one big-time blowout. CHA cooperated by allowing them to rent Conkey Hall for their blast.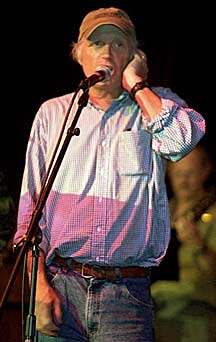 Jay Emlen adds his virtuoso touch
to the Rugapalooza talent pool.
Hall scored another coup by asking Paul Roller to cater the mega-concert. (Saturday and Monday had lots of jamming, but the main day was Sunday, May 24, which included the biggest party and concert, as well as lunch and dinner.) "Paul Roller took such good care of us; he was unbelievable," declared Hall. "He also played his guitar. He was so great to us that he was the only person we let up on stage to make a guest appearance."
Virtually all of the aging former rockers who came back to the Memorial Day weekend had the time of their lives. (About 20 more who were asked to come were not able to make it.) According to Dr. Anthony Bruno of Glenside, "Where do I start? Maybe with a straightforward thank you for the opportunity to play with, easily, one of the nicest groups of guys I have ever met. I had no business being on the same stage as a few of them, given their chops ... I applaud what 'Rug' (Hall) did and the time, savvy and agita it took to pull it together. He is an amazing guy, and he has enriched my life."
Hall's brother-in-law, Denny Matkosky, came to the event from Nashville, where he is a successful full-time musician. In fact, he wrote the song "Maniac," which was in the movie Flashdance, and many others. "I had the time of my life playing music with all of you," Matkoksy wrote afterwards. "Thank you for making me feel so comfortable; no attitude, no egos, just friends and music. It was the reason I started (playing music) in the first place and what I strive for every day."
"Sunday night was a once-in-a-lifetime event," said Jim 'Steelman' Disston, who now lives in Connecticut. "I will never forget it. It was great to be on stage with new friends and old friends, many of whom I have not seen in 30 or more years. The memories will last for a lifetime."
Steve Pearson of Flourtown added that "Rug" and "Nurd" are "to be commended big-time! That was one of the most unbelievable weekends of my life by a long shot! It seems like a blur now looking back." Dr. Barry Shannon, who now lives in Ohio, insisted, "This experience was so surreal, it's a memory I will treasure forever ... Honestly, this was Nirvana and could not have been any better. It was a pleasure to be on stage once again and playing with some incredible talent ... If this is heaven, then sign me up for the next gig."
"Life is all about small things," said Hall. "The small things make all the difference. Getting all those guys to come back was amazing, and I was the perfect guy to do this, but I want to give lots of credit for all that Carl (Norris) did also. I feel so proud, so happy. This proves that dreams can come true!
Source: http://chestnuthilllocal.com/issues/2009.06.04/locallife1.html
[Picture caption: Even restaurateur Paul Roller got into the act. Because he did such a great job of catering, Paul was the only person not part of the 40-year-old Hill rock bands who was allowed up on stage to perform over the Memorial Day weekend.]
[Picture caption: Leslie Hall Matkosky, a Springside School alumna from the class of 1971 and organizer Bill Hall's sister, came from Nashville to rock with lots of old CHA guys. Leslie's husband, Dennis, played with the B-3 band in the Stone Age and composed the song, "Maniac," which became a huge hit after it was played in the movie, Flashdance.]
[Picture caption: Jim "Steelman" Disston (left), who now lives in Connecticut, is seen rockin' with Bill "Rug" Hall, CHA grad in 1969 who put the three-day Memorial Day weekend extravaganza together with Dr. Carl "Nurd" Norris, who now lives in Boston. The duo started organizing the once-in-a-lifetime event in May of 2008.]
Related links
2009 Band Reunion DVDs and soundtrack CDs for sale from Apogee Video Productions.
Flickr slideshow of 2009 Band Reunion.
Picasa web album of Conkeystock/Rugapalooza 2009.
A testimonial
from Tom Trapnell, Class of '68
Hi, Everyone!
I'm incoherently grateful for the chance to join you all in music and friendship this past weekend. What a fabulous, extraordinary, amazing adjective-filled time it was!
When Rug contacted me way back when, I thought it might be fun to be there, but probably wouldn't (all the guitars would surely drown everyone else out, right? No one would rehearse, right?) Anyway, I told him I wouldn't rule it out.
Somehow Claudia and I decided to take a chance, and what a blessing it turned out to be. It would have been worth the trip just for the good energy alone. Then there was the music, which to my ears was sublime. The best musical experience of my life. I'm still reelin' with the feelin'.
Today in Souther California it is warm, but not too; humidity is above normal, but not unpleasant; the shadows oddly seem a little longer than usual, as if presaging Autumn, even though Summer has only just begun. It feels exactly like a Philadelphia day at the end of summer: Vacation is over, alas, and school is about to begin. And then you stick your hand in your pocket and find there is still a bit of sand there from the shore, and your mind goes wistfully back over the great summer you just had with your friends, never to be repeated.
A thousand thanks to Rug, Nurd, Tom, CHA and all the others for making the thing happen. You guys are impossibly praiseworthy.
My friends have been asking how the weekend went, but I just get choked up and can't find the words ... as John Sebastian said, "It's like trying to tell a stranger 'bout rock 'n' roll."
I am putting together some of Claudia's photos of the weekend, hopefully I can post a slideshow if I can figure out how to do it. Meanwhile one photo stands out among them all. It only took a nanosecond to fall in love with this guy.
Love and kisses to all,
— TNT
Tom Trapnell
trapnell[at]earthlink[dot]net