Willow Lake Farm Leads Horse Farms' Switch to Solar Energy
by Suzanne Bush – March 2010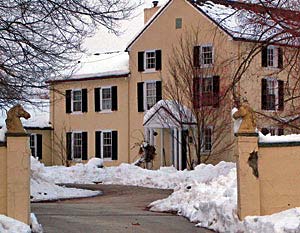 "I just think we use too much stuff. Too much of everything," Ellen Lea says, considering the world's dependence on fossil fuels, and the environmental damage that dependence creates. "There's got to be a bottom to everything, but not solar energy. I really feel like the carbon footprint is important," she explains, "I feel like this is doing my part." Lea is part of a fast-growing contingent of land owners who have made the leap to alternative energy. In a couple of months, engineers from Penn Renewables of Quakertown, PA will begin installation of panels that will convert the house, the barns and the stables to solar energy.
The original part of the house at Willow Lake Farm was built in 1713, and was probably heated with wood or coal, or a combination of both. Kerosene lights and candles provided the ambience for the 18th Century farmers who settled here.
Lea's great uncle purchased the farm in 1934, and she grew up here. "Twenty years ago my mother said 'what do you want me to do with the farm?' We had a family meeting," she explains, at which she and her siblings discussed the farm and what it meant to the family. "They all have fabulous memories of living here," and didn't want to see the farm sold to developers, who were enthusiastically offering huge sums of money for 165 rolling acres in this southeastern corner of Montgomery County. The siblings decided that Lea should take over the farm, and purchase it from the estate.
"Mother decided to put a conservation easement on it," Lea says, and provided in her will for as much land as Lea wanted to be carved out of the easement. She retained 26 acres, and the rest is part of the Wissahickon Valley Watershed Association's portfolio of conserved land. Lea and her husband, Dr. Dale Schilling, a large-animal veterinarian, breed thoroughbred racehorses. From their sunroom they can watch their yearlings in a gently sloping pasture that sits just across a small pond. Even swaddled in a thick blanket of new snow, the farm is a stunning expanse of pastures, streams and thick woods.
Going Green Is a Major Investment
"Renewable energy is still out of the reach of most people," Pat Noto says. His company is installing solar at Willow Lake Farm. "From my perspective it's a wonderful thing, and I'm all about reducing our carbon footprint. One of the drawbacks is the technology is still expensive." Right now consumers can take advantage of federal tax credits and state rebates to convert to renewable energy. But too often, people look for an instant payoff. And that's not going to happen. "When a lot of people think green," he says, "they're thinking dollars. Only one in four people we do work for are about green energy being green, though, like Ellen and Doctor Dale."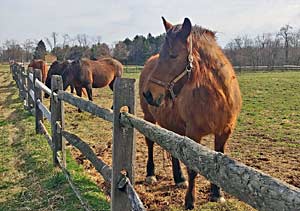 "You need to understand the United States has been very slow to jump on the bandwagon of renewable energy," Jerry Robbins says. His company, Aztec Solar Power, will soon open a manufacturing plant in York. "Except for California, which always is avant-garde, the country has been oblivious to the fact that there is a need for this." He says most of the cost of solar power comes from its components—the solar panels and the inverters that convert the solar-generated current from direct to alternating — which are almost all made overseas.
Noto says that he has been interested in developing solar energy for more than 30 years. "Back in the early 80's when fuel was cheap, the technology was too expensive. I was always concerned about the amount of fossil fuels, and our dependence on fossil fuels. I'm very nationally minded and believe we shouldn't be dependent on foreign companies for our energy."
Going Green for the Sake of the Planet
Lea knows that it will take four or five years before savings offset the cost of this installation, but she is committed to doing everything in her power to make a difference to the environment. "I know it's expensive to do this, but they're offering fabulous tax credits and rebates right now, even though I'm not doing it for the tax credits. I think it's important that we stop squandering our resources." The meter, she says, will start going backwards immediately, and that is something she's looking forward to.
The solar energy system at Willow Lake will handle most of the farm's energy requirements, she says. "It will run the heat circulators and on good production days we can run most of the house electrically on solar." The barn's energy needs, including pumps that keep water in the troughs in the pastures, as well as lights and baseboard heat in the tack rooms, will be almost completely covered by solar.
Robbins, of Aztec Solar Power, says that efficiency is one of the major improvements in solar technology. "A lot of what was put up in the (President Jimmy) Carter days was solar-thermal power, which is still being done, but it was a way of heating water for domestic use. But there were some photovoltaic installations done. The major thing that's changed is the efficiency — how big a panel has to be to generate a certain amount of electricity — of the panels available today."
The cost of converting to renewable energy should not discourage people from making a difference, Noto, of Penn Renewables, says. "We like to sell stuff, it keeps us in business, but conservation is four times cheaper than renewable energy. I tell people all the time that conservation is the place to start."
The Solar Business Is Booming
Lea says this project has been on her mind for years. "I've actually been thinking of it off and on for about 10 years. But everyone said nobody knew what they were doing with solar," she explains. "But the electric bills were getting so high" that she decided to stop thinking about it and just do it. She is not alone.
Life at Penn Renewables is hectic these days. "It's like the spokes of a wheel," Noto says. "Municipalities, schools, businesses — there's opportunity everywhere now. I'm spinning in circles." He says they have more business booked already this year than they had in all of last year. "We had a terrific year last year," he says, marveling at how different the clean energy business is this time around.
Robbins and his colleagues at Aztec Solar Power look at the region's farms as huge opportunities for growth, because farms have the space to install panels and because they are usually more isolated than homes in subdivisions, where neighbors might object to seeing the solar panels. "We've carved a niche in that by design and just serendipity — we had contacted several farms and we realized that the energy demands of many working farms are relatively large." He says they spend a lot of time on education. "Education is extremely important. Very often we're the first ones in a municipality to go in and apply for a permit. They have very little information to rely on, so we have to educate the municipalities."
Robbins, whose company started in a basement office, says that the future is as bright as the sun. And he sees Pennsylvania as leading the parade into America's energy future. "This is something that will be the silicon revolution we saw out in California. I'm not only talking about the photovoltaic cells, but all renewable energy."
Heaven on Earth
Lea recalls leading packs of her children's school mates on tours of the farm 10 or 15 years ago. She enjoyed showing the children what a horse farm was like. She looks ahead to more ventures in renewable energy, and more tours — this time featuring her grandchildren and their friends. Her son and daughter-in-law are expecting a baby this spring. She thinks children would be inspired by seeing how the sun can be used to create electricity.
But Lea is not stopping with solar power, which is just the first step in her plan for energy independence. "I would love to think about a wind turbine and a manure digester. I'd love to be off the grid," she says. Not just for herself, though, but for her community and her family. "I see it as making life better." She's excited about the road she has chosen, because she sees it as another way to preserve and protect the land that has meant so much to her family, a place she calls "a touch of heaven here in Whitemarsh Township."
Article text and color homestead photo ©2010 East Coast Equestrian — All Rights Reserved. B&W photos of main farm building during the 1930s from Library of Congress (public domain). Photo of horses from Wissahickon Trails (photographer unknown).
Original article on the East Coast Equestrian web site at:
https://www.eastcoastequestrian.net/news2010/march/0310_willow_lake.php
See also: "Six-time stakes winner Roadhog retired at 9" (Daily Racing Form; 07/20/16). "Explore the Watershed — Willow Lake Farm" (Wissahickon Trails).
Satellite View & Map