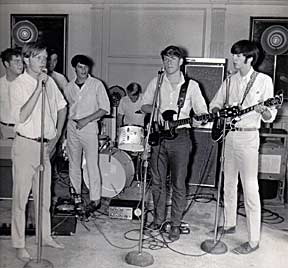 Section V band members Peter David, Jay Emlen, Bill
Reisner, Bill Hall, Ed Stulb, Gordie McIlvain, Colin McNeil
play at debutante Bettina Heist's party in Blue Bell.
(click on photo to enlarge)

– June 1969
Section 5 combo performs at party for deb
One of the newer combos in town is Section 5, which played at the luncheon and swimming party given by Mrs. Nina Cooke Emlen and Mrs. George P. Millington Jr. for debutante Bettina Weeks Heist.
Mrs. Emlen's 17-year-old son, Jay Cooke Emlen, is vocalist for the rock 'n' roll ensemble. He'll be a senior at Chestnut Hill Academy in the fall. Instrumentalists include classmate William Hall plus brand-new CHA alumni Gordon McIlvain and Edwin Stulb. Also in the band is Colin F. McNeil, who'll receive his diploma from Germantown Academy on June 20.
The combo performed all afternoon in the living room of Swallowfield, the Emlen home in Blue Bell.
Eighty persons attended the party for Bettina, who is the daughter of Mrs. Elizabeth Weeks Heist, of Chestnut Hill. The late Daniel S. Heist was the deb's father.
Bettina, who was graduated Tuesday from the Springside School, will make her debut at a supper dance June 22 at The Barn in Eddington. She will be presented with debs Anne Barton Bromley and Jane Biddle Merritt.
Emlen & Co. at the Main Street Fair, Chestnut Hill Hospital, October 1966;
Flying Pyg, Battle of the Bands (Woodward Gym) & Loophole dance, 1969.
Music & audio samples from the 60's Chestnut Hill bands
Download: M4A, OGG
Light Up or Leave Me Alone
Sunshine Express, '73-'74
Note: Depending upon the speed of your connection, it may take several minutes for the above songs to load in your browser.
* 50's & 60's music mix produced by HitsRadio™ and streamed on Radio.net.
Listen to Philadelphia station WMMR 93.3FM Live