Adopting a new way of CLYNK-ing
CLYNK's new sorting system in South Portland increases the efficiency of recycling.
by Stephanie Hardiman, July 23, 2010
SOUTH PORTLAND – The machine roared to life and the conveyor belts picked up speed Thursday morning when Gov. John Baldacci activated the new more efficient sorting system for the container redemption company CLYNK.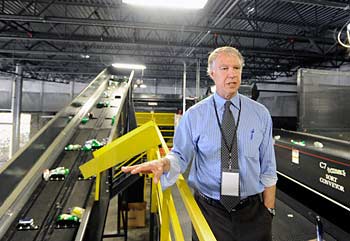 The $1.1 million system, which includes a processing line and 10 sorting stations, boasts a higher capacity that will prime the company for future expansion.
"It saves us a lot of time and a lot of energy," Clayton Kyle, Clynk's CEO,* said of the patented system.
Five-year-old South Portland-based CLYNK has kiosks in 33 Hannaford supermarkets in Maine and expects to expand to another 13 by the end of the year. The company expects to process 70 million containers this year and increase its accounts to 80,000, up from 55,000 currently.
The new system took about a year to develop and was partially funded by a $500,000 Maine Institute of Technology development award. CLYNK also received nearly $586,000 in matching donations for the system's development.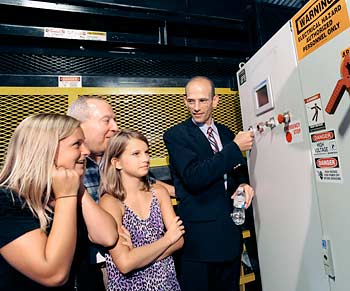 Previously, sorting was done by information on the container barcode, which identified the material. But with new technology, the process will be faster and more accurate, said Kyle.
Glass is heaviest and is sorted out first. Then an eddy current, an electric field that repels aluminum, separates out cans, leaving plastic behind.
The new process also saves 20,000 plastic bags per month that employees used to haul the containers around the CLYNK warehouse.
Baldacci credited container redemption programs with keeping Maine roadsides free of litter.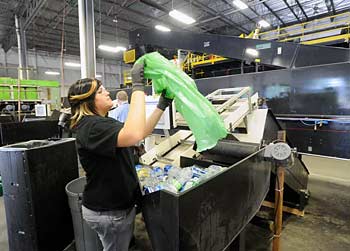 "We know and appreciate the fact that people recognize that it's not like every other state and the sides of the roads are clean," the governor said.
CLYNK customers place their redeemables in a green bag coded with their account information and drop it off at a participating Hannaford. Within two business days, the customer account is credited with the redemption money, which can be redeemed for cash or credit towards grocery bills.
The bags must be purchased at a cost of $1.25 for a sleeve of 10, but Kyle said the bags are sold at cost and are necessary since they are stronger than the average plastic bag and are recyclable.
The system has increased redemption. On average, Hannaford stores using CLYNK see about 5 percent more redemption than those that do not, and as much as 15 percent in some stores.
"They've enabled us to put in a system more convenient for the consumers," said Stephen Culver, vice president of government relations for Hannaford.
After being sorted in the CLYNK's warehouse, the returnables are crushed into 750- to 800-pound bales. They're shipped off to other companies to recycle into new containers or other products. Glass is recycled or used to become substrata for pavement.
CLYNK receives about three and a half cents per container from the manufacturers.
Kyle said the company hopes to expand into more locations and is open to the idea of venturing outside of Maine, although bottle bills vary by state.
The Maine bottle bill was passed in 1978 to reduce litter and waste and give Mainers an incentive to recycle. All metal, plastic and glass beverage containers are redeemable, except those for dairy products and unprocessed cider.
Five cents is the going rate for containers, but wine and liquor bottles fetch 15 cents.
The company is in the process of licensing its technology to Oregon Beverage Recycling Cooperative in Portland, Ore., Kyle said, but CLYNK is solely a product of Maine.
"This is sort of a homegrown story," he said. "It's just a story that shows a little Maine ingenuity and a little environmental success story."
Staff Writer Stephanie Hardiman can be contacted at (207) 791-6301 or at: [email protected]
© 2010 Portland Press Herald — All Rights Reserved.
Original article on the Portland Press Herald web site at:
https://www.pressherald.com/2010/07/23/adopting-a-new-way-of-clynk-ing_2010-07-23/
*Update: Alison Vanderhoof succeeded the retiring founder Clayton Kyle as president and CEO of CLYNK in October 2018. CLYNK now has a presence in 100+ Hannaford stores, having expanded to locations in the state of New York. (See Mainebiz article, 01/21/19.) CLYNK is registered with the Maine Secretary of State as COUNT & CRUSH, LLC. According to Dun & Bradstreet (accessed 12/12/20), the company generates $4 million in sales, with 50 total employees; Clayton Kyle now serves as its Chairman of the Board.
---

Marty Grohman, whose podcast The Grow Maine Show airs Sunday mornings on Newsradio WGAN in Portland, Maine, interviewed our classmate Clayt Kyle about his bottle recycling venture, Clynk (August 23, 2013; 33:43).
See also: a news article about Clynk at "The Record" (Troy, New York; 03/22/16), plus an extensive interview with Clayt Kyle at the "Maine Startups Insider" (by Whit Richardson; 02/03/17).
More: "It is easy being green" (Portand Press Herald; 11/29/06, updated 03/17/16).
---