Volume 20, Number 1, April 2012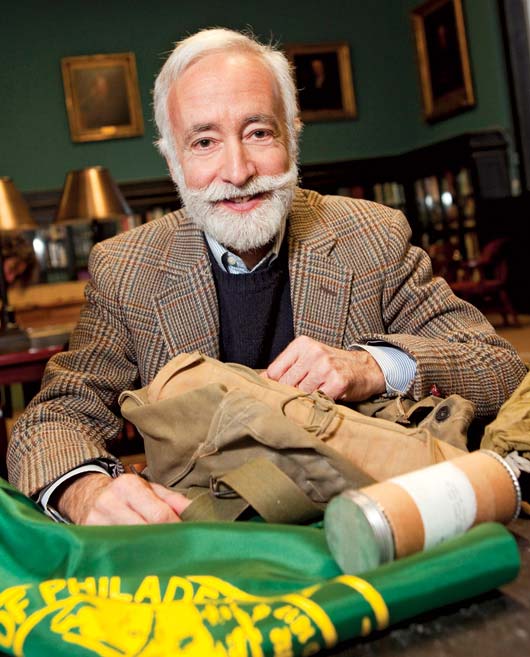 Photos by Ambre Alexander.
Naturalist finds life of adventure and fulfillment
Speaking at University of Delaware's Winter Commencement this year, naturalist Robert McCracken Peck, AS76M, had what he describes as obvious but easily overlooked words of encouragement for the newest graduates:
"Life is too short to pretend to be something you're not, and too precious to let pass in boredom or misery."
A week later, Peck, who earned his master's degree in the University's Winterthur Program in American Cultural History, is sitting in a small office at the Academy of Natural Sciences in Philadelphia, where he is a curator of art and artifacts and senior fellow.
"I must have seemed like an ancient fossil up on the stage," he says with a laugh, recalling the Commencement address. "From a student's perspective, 35 years seems an awfully long time. But my memories are still so fresh from that time that I could see myself sitting where they were and share with them some of their anxiety and excitement — the thrill of graduating, that sense of accomplishment, but also that gnawing sense of uncertainty about where to go next."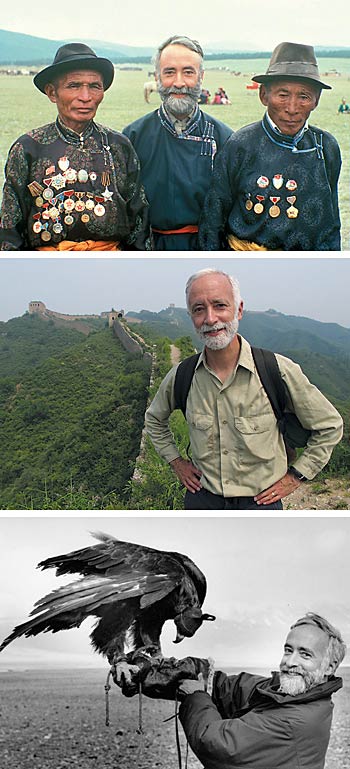 Peck says that after his own graduation, he experienced that combination of excitement and uncertainty in the form of what he calls a "disconnect" between what he had studied in school and other things that interested him. He wanted to bridge a gap between his formal education and a strong motivation he felt to do something helpful for the natural world.
In his address, he assured the new graduates that mixed feelings were normal. "I mention this apparent disconnect between heart and mind because I believe it is a tension many people experience," he said. "It is especially acute when we leave the relative security of school and face the uncertainties of the workplace. I want to reassure those of you who are feeling that tension now, that the distance between the two may not be as great as you think, and that you need not necessarily abandon one for the other."
Similar to members of the Class of 2011, Peck says he graduated into a "very tight" job market. When an assistant to the director position opened up at the Academy of Natural Sciences, he went for it.
"I thought I'd give it a try and maybe stay for a year or two," he says. "And then, here I am, 35 years later, never imagining that I'd still be here and still loving it as much as I did when I first arrived."
It turns out that there couldn't have been a better place than the Academy of Natural Sciences for Peck to bridge the disconnect he had felt.
Over the course of those 35 years, through his work at the Academy, Peck has participated in extensive expeditions in North and South America, Africa, Asia and Europe. He says a big part of his job is interpreting what he and his teams do on those expeditions and relaying that information to the general public through exhibits, radio and television, lectures, books and articles.
"It's the kind of thing I only fantasized about when I was in high school, reading magazines and books about what these other parts of the world were like," he says. "And to have the chance to visit them and bring back information from there that I could share with others is an incredibly fortunate and fulfilling career."
Peck says he hopes he was able to inspire the newest UD alumni also to try to do something they love as they embark on their post-college lives.
"I know you will make your families and the University proud," he told them. "Be sure to make yourselves proud, too, by remembering to nurture your hopes and dreams, not just now, but for the rest of your life. Your individuality and your idealism are your greatest assets. If you stay true to these, you can not help but succeed."
Peck, who received an honorary Doctor of Humane Letters degree from the University at Winter Commencement, says he will continue to follow his own advice, doing what he loves. He'll be especially busy this year, promoting the Academy of Natural Sciences' bicentennial through lectures and book appearances.
As for future expeditions, Peck says he doesn't have any planned yet, but he's sure there will be "many others coming down the road." Among the places he would most like to go next are the South Pacific, the Andes and Patagonia.
Article by Ryan Maguire, AS07
© 2018 University of Delaware, Newark, DE 19716. All Rights Reserved.
Original article on the University of Delaware Messenger web site at:
http://www1.udel.edu/udmessenger/vol20no1/stories/alumni-peck.html
See also: "Employee Spotlight: Robert McCracken Peck" (Drexel University; 11/21/16). "New Book Brings to Life the Making of American Science" (DrexelNOW Book Review; 02/21/12). "How Edward Lear's artistic genius led to the Owl and the Pussycat" (Donna Ferguson, The Observer; 01/31/21). Books by Robert M. Peck on Amazon.com.
---